The Ruckus Reading List

Members-Only Content
Find out what your favorite art writers are reading.
WINTER 2019

Q: What was your favorite read over the past year?
"The Politics of the Signifier: A Conversation on the Whitney Biennial" from October, Vol. 66
Hal Foster, Rosalind Krauss, Silvia Kolbowski, Miwon Kwon, and Benjamin Buchloh
Earlier this year, a colleague introduced me to this roundtable discussion from the October editors regarding the 1993 Whitney Biennial and it has stuck with me since. The editors discuss the implications of contemporary art's shift towards the theoretical and political. Krauss's comments on the latter are particularly interesting. She critiques the catalog texts, saying, "The work is seen to have a meaning that one can succinctly name and then use that name to pass from the object to a register of 'important ideas.' The work is never thought to be layered, to be involved with a multiplicity of ideas, to be worked on." It is not enough to simply discuss how an artwork relates to or can further a specific agenda—to do so would be to deny it of complexity. 26 years later, we find ourselves in an era of information overload, making it easy to take art at surface level or to focus on what is signified. I will be challenging myself to read deeper and engage with nuances further.
What it Means to Write About Art: Interviews with Art Critics
Jarrett Earnest
By far, one of my favorite books this year has been
What it Means to Write About Art: Interviews with Art Critics
by Jarrett Earnest. I already mentioned this title in
my Writer Spotlight
as "a recent favorite because it cajoles my own insecurities about wanting to be a critic," which is still certainly true, but even more than that the book chronicles the lives and perspectives of an entire generation of art writers. It translates, for me, roughly as "how we ended up here." Earnest did not shy away from including rival figures (or what feels like sometimes, bitter enemies) together in this collection. Aside from the fun of this inherent drama, the contrasting approaches and fundamental motivations of these writers paints a lively and optimistic view of the field going forward. At the end of the introduction, Earnest suggests this collection be a "thanks to those who've spent their lives making and talking about art, and a challenge to future artists, writers, and thinkers to imagine new worlds." In both cases I believe Earnest to have succeeded.
How to Do Nothing: Resisting the Attention Economy
Jenny Odell
You may find
How to Do Nothing
listed as a self-help book, but within the first few paragraphs of Odell's introduction, it becomes evident that her vision extends far beyond the individual. Odell confronts the all-encompassing nature of capitalism, its demand for constant production, and the value assigned to every second of attention. Herself an artist, Odell examines the pressures placed on creatives to generate continuously in our current technological landscape. While acknowledging the desire to drop out completely, Odell contemplates ways to think outside of capitalist narratives while remaining connected to each other. The implications are huge⁠—this is not just a call to unplug, but a manifesto that urges the value of human life. Very little writing in the past year has given me such a sense of calm and reprieve. Compared to my patterns of frantically checking social media and skimming news throughout the day, Odell's writing feels medicinal, and I want to soak in it like a bath.
-Mary Clore

12.30.19




---
FALL 2019

Q: What's on your shelf right now?
L Autumn Gnadinger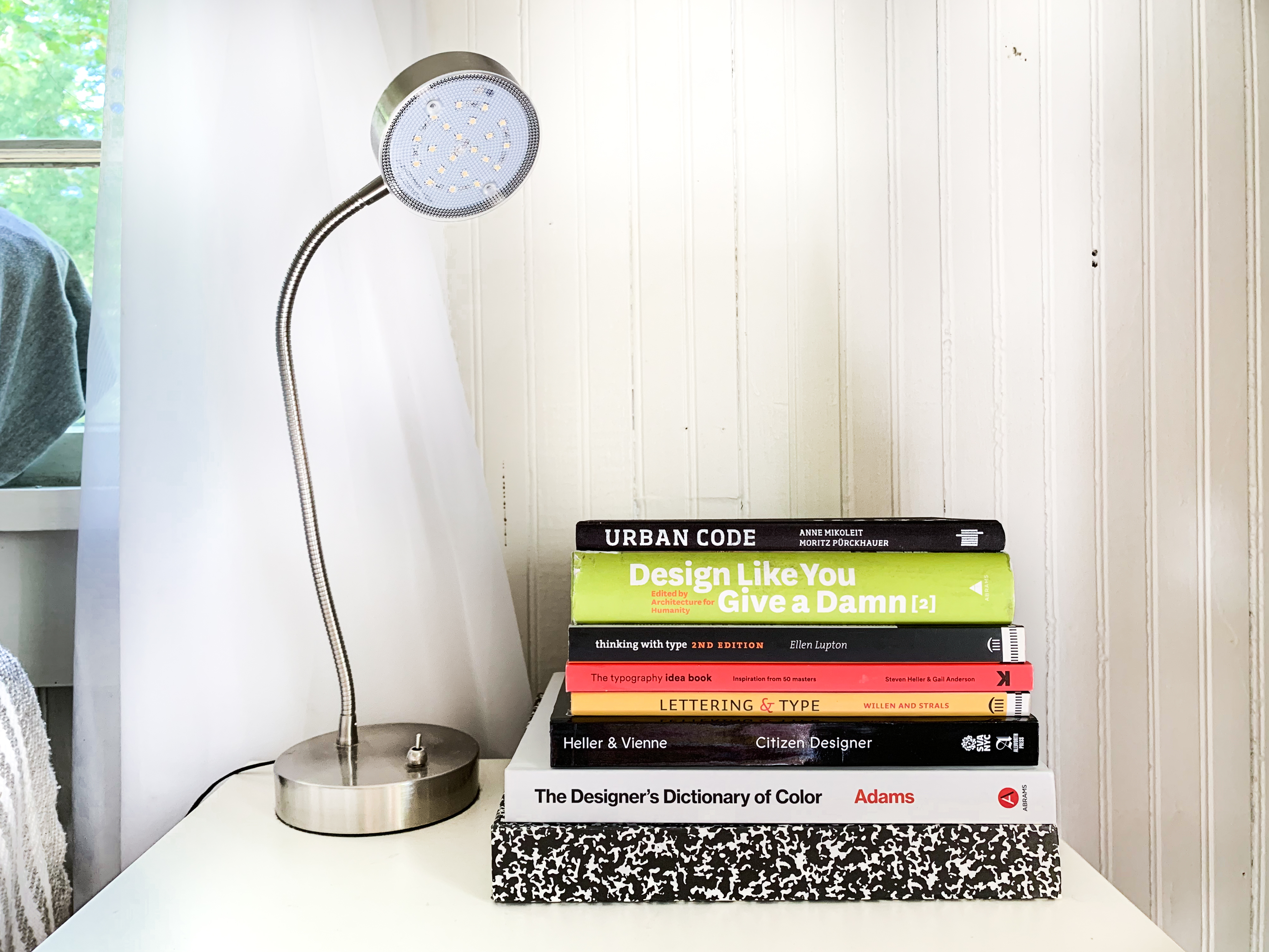 For the last year and a half, I have been living in the woods. Things like bookshelves are annoying to find, and so, my personal library has been largely reduced to various stacks around my bed. Here is one recently featured on my nightstand: a collection of writings on contemporary design discourse. I feel it is just as important to be able to talk about what art is not, rather than just what art is (or can be), which leads me to care about how a field like design discusses itself. A standout is the black and white leopard-y one on the bottom called
How to Use Graphic Design to Sell Things, Explain Things, Make Things Look Better, Make People Laugh, Make People Cry, and (Every Once in a While) Change the World
. In it, author Michael Beruit delivers on exactly those topics and—improbably—even more. In a section titled "How to work for free" (relateable), Beruit points out the obvious: issues of always undervaluing contract creative workers, and so on. He also speaks, though, to the unique opportunities when working without adequate pay, so long as they are with people you really trust and like (e.g. all of Ruckus).
Kevin Warth
While these shelves don't represent all the books I own (those related to my current research topics are either at my studio or on my desk), they act as a snapshot of my interests: queer theory, photography, temporality, Dada, et cetera. You may notice a severe lack of fiction, a preference which curator Natalia Zuluaga gently chastised me for during a recent studio visit. Junji Ito's manga
Uzumaki
is included amongst more academic texts. Throughout the series, two teenagers grapple with an antagonist that is unknowable but familiar: spirals.
Uzumaki
is easily one of the most impactful cosmic horror stories I have ever read. I recently resvisited
Art: A Sex Book
by Bruce Hainley and John Waters, which I originally purchased in 2015 after the former gave me a bad portfolio critique. The book takes the form of an organic conversation between Hainley and Waters as they discuss art as it relates to desire, sensuality, and the body. The result is hilarious and absurd, yet surprisingly lucid—you will never see Barnett Newman the same way again.
Mary Clore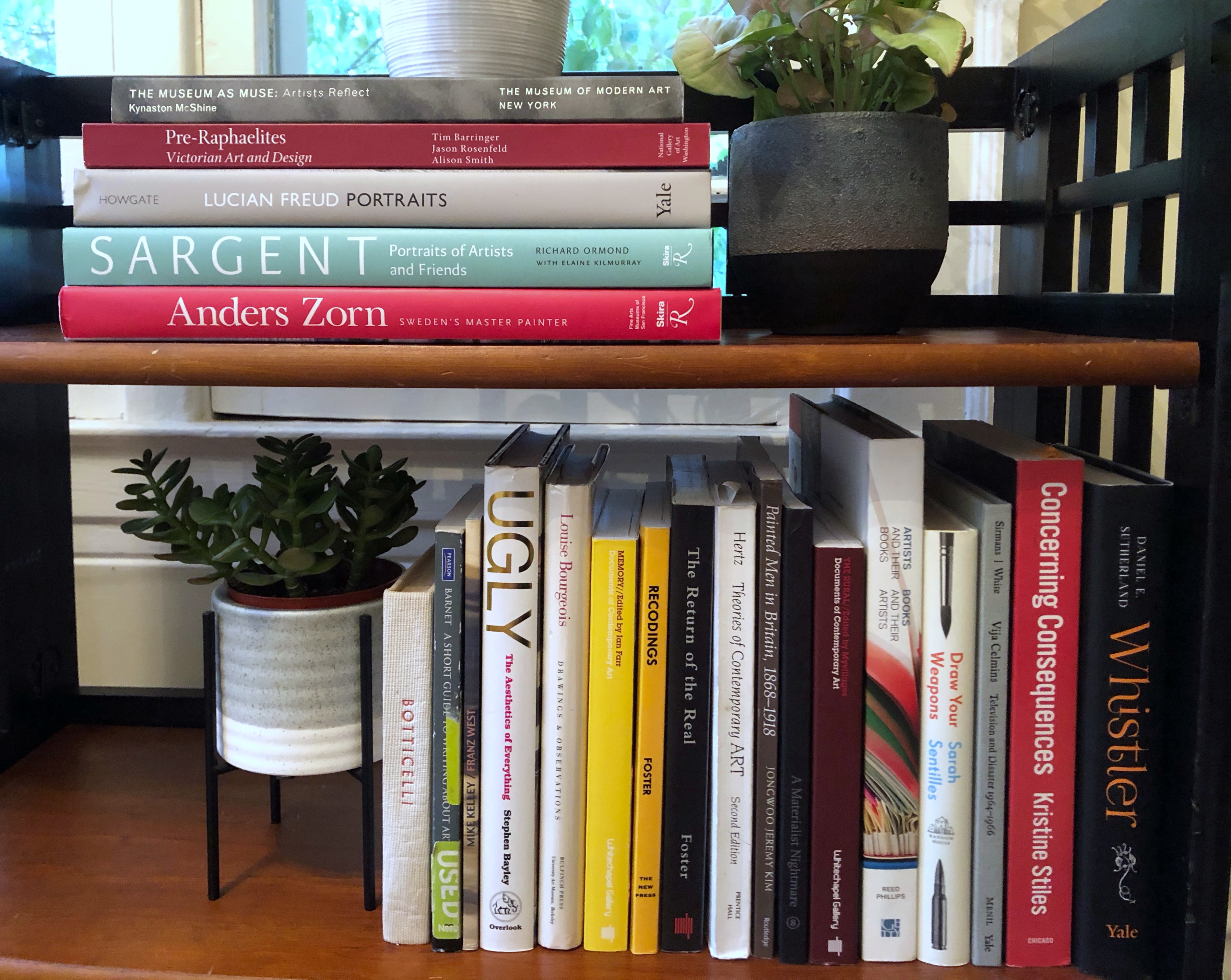 Moving from apartment to apartment over the past few years has made it inconvenient to amass books, but there are some art books I just can't resist. I buy most of my books secondhand or receive them as gifts. The selection pictured here is not particularly cohesive, but it illustrates some of my interests, broad and niche. With my background in painting, I love having my Sargent, Freud, and Zorn books on hand—I return to those painters over and over again, even when I'm not working figuratively.
Painted Men in Britain, 1868-1918
is by Jongwoo Jeremy Kim, whom I was fortunate to have as a professor during my undergraduate years. Kim examines painters like Sargent through a contemporary queer lens, which has influenced the way I approach painting. Other books in my collection cover topics like museums, memory, and trauma.
Concerning Consequences: Studies in Art, Destruction, and Trauma
by Kristine Stiles is a thorough investigation of the way trauma informs art and visual culture.
9.26.19

---
SUMMER 2019

Q: What reading materials have been the most beneficial to you as a writer?
A Short Guide to Writing About Art
Sylvan Barnet
The first page of this book lists a number of reasons you may want to consult it: "If you are writing a formal analysis," "If you are writing a review of an exhibition," "If you are concerned with forms of documentation," etc. You may never find a need to read every chapter, but here Barnet has assembled the most essential tools for art writing in a concise and practical volume. For anyone who writes about art or visual culture, and anyone who isn't sure how to approach such writing, this is the first book I would recommend.
-Mary Clore

Extra/Ordinary: Craft and Contemporary Art
Ed. Maria Elena Buszek
I routinely direct new readers to this book. As a collection of essays from many authors, it offers a rousingly clear perspective on the ways contemporary craft is shaped by (and conversely, acts on) other fields––art, design, and architecture, to name a few. Most importantly it provides language and frameworks that allow contemporary craft to exist independently of these fields, but also to overlap simultaneously. The resulting narrative is more equitable than modernist/western art history––reverent of how marginalized groups were previously undervalued by an association to craft––and also instructive for how this knowledge can be enriching and transformative for individuals and communities.
-L Autumn Gnadinger

The Routledge Queer Studies Reader
Ed. Donald E. Hall, Annamarie Jagose, Andrea Bebell, and Susan Potter
Queer theory heavily influences my perspective on art, writing, and philosophy; accordingly, The Routledge Queer Studies Reader is one of my favorite books to reference while researching. It provides a great introduction to the field and contains essays from many influential writers such as Lee Edelman, Judith Butler, Jack Halberstam, Jasbir K. Puar, and Elizabeth Grosz. The essays are conveniently grouped into topics, allowing readers to pick and choose the sub-genre that interests them most. As a whole, queer theory creates a framework for dissecting, analyzing, and deciphering the nature of identity which, as American culture offers visibility to a small, more privedleged section of the LGBTQ+ community, is important now more than ever.
-Kevin Warth


Politics and the English Language
George Orwell
I read George Orwell's 1946 essay as a junior in high school, and it has affected every paper, artist statement, exhibition review, and tweet I've written since then. Orwell urges his readers to prioritize clarity and precision. "It has nothing to do with correct grammar and syntax, which are of no importance so long as one makes one's meaning clear… What is above all needed is to let the meaning choose the word, and not the other way around." Through concrete examples, Orwell outlines the ways pretentious diction and abstract language obfuscate meaning. His warning that abstract language soon becomes meaningless ("Since you don't know what Fascism is, how can you struggle against Fascism?") is timely. Think of the words "detention center" and the words "concentration camp." How different are their meanings?
-Mary Clore

Introduction: The Left Hand of Darkness
Ursula K. Le Guin
The author's introduction to this book is one of my favorite pieces of writing. In it, she details her perspective on the genre of science fiction (and all art), noting what she believes are its capabilities and its limits. That sounds simple (it is simple), but things that art cannot do, rather than what it can, are seldom the topic of criticism outright. Le Guin reminds: "I am not predicting," but instead "inventing elaborately circumstantial lies." Even 50 years after its first publication, I find it orienting as a writer to read a master of her form discuss the contours of art's usefulness (and occasionally, uselessness).
-L Autumn Gnadinger

Art-Write: The Writing Guide for Visual Artists
Vicki Krohn Amorose
Though I initially wrote off this short guide when it was assigned in an undergrad studio course, Amorose surprised me with the relevance of her advice. She treats a number of topics that are inescapable for visual artists: artist statements, elevator pitches, grant writing, et cetera. While this book is specific in its audience and intention, the lessons it imparts can be applied to any kind of writing. Amorose maintains that we should be succinct, cognizant of future readers, and aware of writing's purpose.
-Kevin Warth


6.24.19

---
SPRING 2019
Q: What have you been reading lately?
dispatches journal
Ed. Gean Moreno and Natalia Zuluaga
In
dispatches
, editors Gean Moreno and Natalia Zuluaga (2019 Great Meadows Foundation Critic-in-Residence) have created a space for hearty discourse about climate, ecology, commerce, postcolonialism, and the ways these issues can be examined through visual culture. For artists and others immersed in the art world, the conflict between art as a tool of resistance and its commodification by structures of power is troubling, sometimes to a point of hopelessness. The answer is not to retreat but to read, discuss, and find more allies! I was especially captivated by Irmgard Emmelhainz' "Aesthetic Materialism under Absolute Capitalisms." The journal is free, bilingual, and offers viewers a format in which they can easily print articles if they so choose.
-Mary Clore

Whitechapel: Documents of Contemporary Art
Series ed. Iwona Blazwick
I'm kind of cheating by selecting a series, but I've found these books to be indispensable while researching. Each publication consists of a series of essays on a particular topic as it relates to contemporary art, with entries ranging from materiality to destruction to appropriation to failure. In order to enrich my own artistic practice, I'm currently reading through
Time
(edited by Amelia Groom).
-Kevin Warth

Artificial Hells: Participatory Art and the Politics of Spectatorship
Claire Bishop
Artificial Hells
is a deep dive into contemporary social practice art (simplified to "Participatory Art" by Bishop), and the challenges faced by audiences, institutions, and critics when interpreting the value of such works. Bishop does not diminish the potential of this kind of work (the potential for community or aesthetic gains). Instead, she positions the inclination to view these works as inherently more ethical than "normal" art to be problematic, and demonstrates how everything from art history to government policy leads us to these inclinations without always being aware of it. At a time when many artistic institutions are looking for their soul,
Artificial Hells
raises essential questions about the role and value of aesthetics in society.
-L Autumn Gnadinger


Art and Labor Podcast
O.K. Fox and Lucia Love
Fox and Love bring contagious enthusiasm and humor into their conversations on labor practices, which are often left out of mainstream art discourse. The description on the podcast's website states, "We hope to center the human cost of the 'art world' and advocate for fair labor practices for artists, assistants, fabricators, docents, interns, registrars, janitors, writers, editors, curators, guards, performers, and anyone doing work for art & cultural institutions." The assumption that artists should be willing to suffer for their art seems to extend to all corners of the industry, stretching to include anyone who cares about the way art is seen. Some of my favorite episodes feature interviews with organizers from two institutions that have made headlines with their recent unionization: MoMA PS1 and the New Museum.
-Mary Clore



The Queer Art of Failure
Jack Halberstam
I'd be remiss to not include any queer content on my list! Queer theory can be impenetrable at first blush, but Halberstam writes in a concise, accessible way so that anyone can pick up one of his books. In
The Queer Art of Failure
, Halberstam proposes alternate modes of thinking and being that undermine heteronormative definitions of success. He identifies these moments in close textual analyses of art and media, perhaps most delightfully in inane films such as
Finding Nemo
,
Dude, Where's My Car?
, and
Chicken Run
. The closing sentences summarize the book most effectively: "To live is to fail, to bungle, to disappoint, and ultimately to die; rather than searching for ways around death and disappointment, the queer art of failure involves the acceptance of the finite, the embrace of the absurd, the silly, and the hopelessly goofy. Rather than resisting endings and limits, let us revel in and cleave to all of our own inevitable fantastic failures."
-Kevin Warth

3.30.19