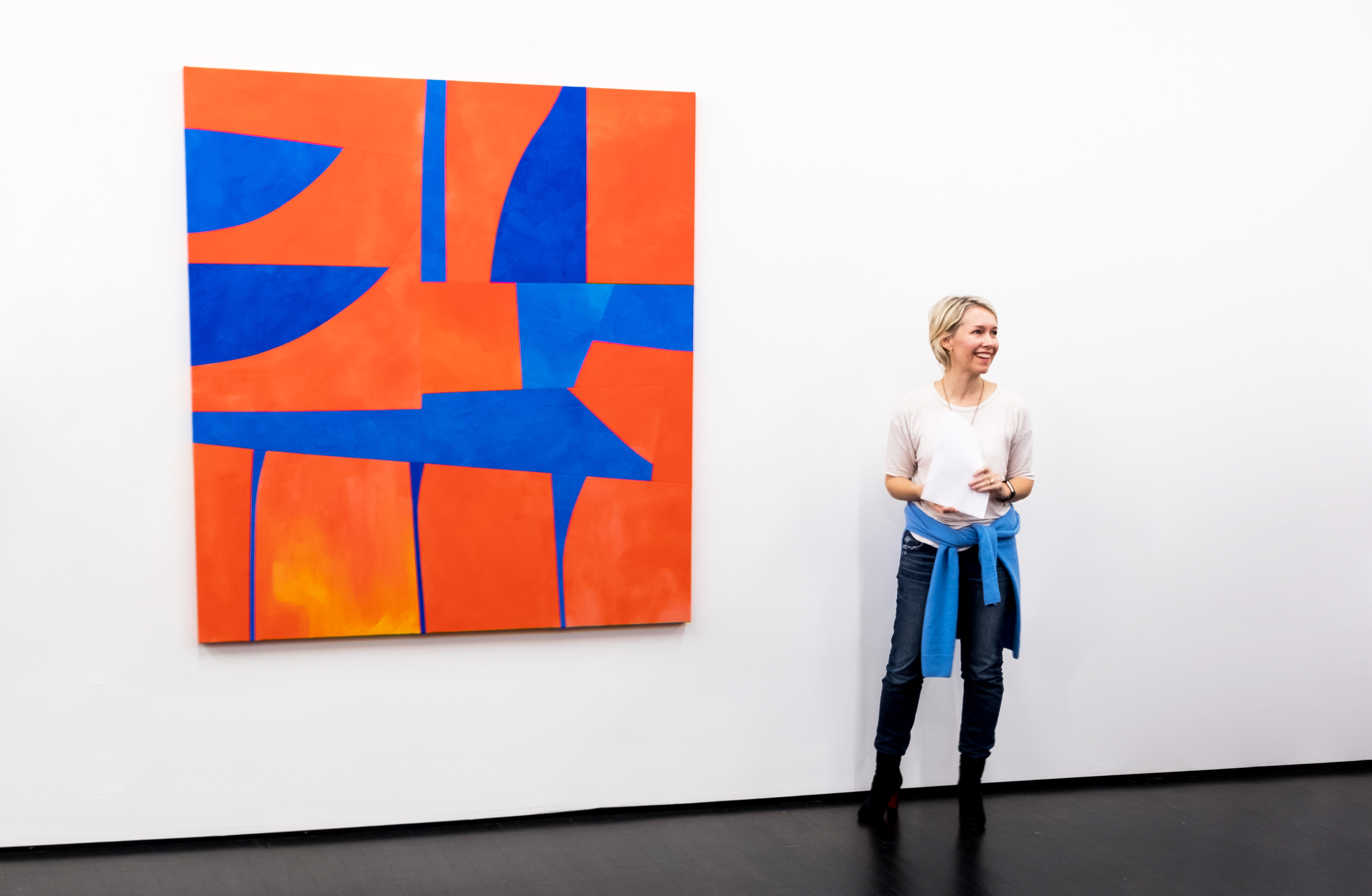 ABOVE: Sarah Crowner standing next to Sliced Red and Blue (New Weed) 2 (2017).
Acrylic on canvas, sewn.

New Patterns: Excerpts from Sarah Crowner Q&A with L Autumn Gnadinger
Members-Only Content
After the installation of Clay Bodies at KMAC Museum, L Autumn Gnadinger joined Sarah Crowner in the galleries to discuss the exhibition and her artistic practice. Here Crowner is elaborating on the usage of "new patterns" from the fields of contemporary geometry.
SC:
Hexagons are easily repeatable, but pentagons are difficult because they are five sides, instead of six sides. And so they had figured out a way to make this tile shape repeat perfectly. It's not something that was invented, it was something that was discovered. It's very interesting also––people at tile companies are now using that Pentagon shape too. So we're both using it, but the genius mathematician is who figured it out.
Regardless, it's odd: tiles are not the most practical way to cover surface. I mean really in this day and age and we have all kinds of modern materials, why do we keep going back to tiles? It's an ancient practice, but it's interesting to me because it relates to painting, you know? I think in situations like Moorish architecture that contain all these beautiful mosaics that were made, I keep thinking that those are really paintings and that the artists and architects who made those spaces we're thinking about painting ideas––ideas around painting.
LG:
So some of your paintings begin their life as a found a piece of found imagery, either in a book or something online, and you might take some of those shapes and abstract them for your work. Sometimes, that history is reflected in like the titles of the work. Tell me about the significance of those archival beginning of those works?
SC:
Sometimes there is significance and other times not.
LG:
Maybe it's more about your workflow?
SC:
Yeah, yeah. For instance, Sonia Delaunay had a fabric sample from the twenties that had a wave I liked, but it also had a lot of other decorative elements I wasn't interested in for my work. So I really narrowed in on one line––the wave. I copied, enlarged and used that line, turning it into a pattern or a template. I made a whole series of paintings around that wave shape and so they departed very far from the original source. But I always feel it's important to honor and name the source because everything comes from somewhere.
-
Find the rest of L Autumn Gnadinger's
conversation with Sarah Crowner here.
Clay Bodies: Moving Through Ceramics
is on display in the second floor gallery at KMAC through April 7, 2019.
KMAC Museum is located at 715 West Main Street, Louisville, Kentucky 40202 and is open Tuesday-Saturday from 10am-6pm and Sunday from 10am-5pm.
Notes:
L Autumn Gnadinger
Contributor and Digital Content Editor for Ruckus
2.25.19
Left:
Tile Painting, Blue Green Terra Cotta
(2016). Glazed terracotta tiles, grout.
Sarah Crowner.
Right: Tile Painting, Yellow Terra Cotta (2016). Glazed terracotta tiles, grout.
Sarah Crowner
Left:
Untitled, (2018) & Untitled, (2018).

Glazed ceramic.
Cassandra MacLeod
Right:
Glaze Archive, (2017-2018).
Glazed ceramic.
Ester Kislin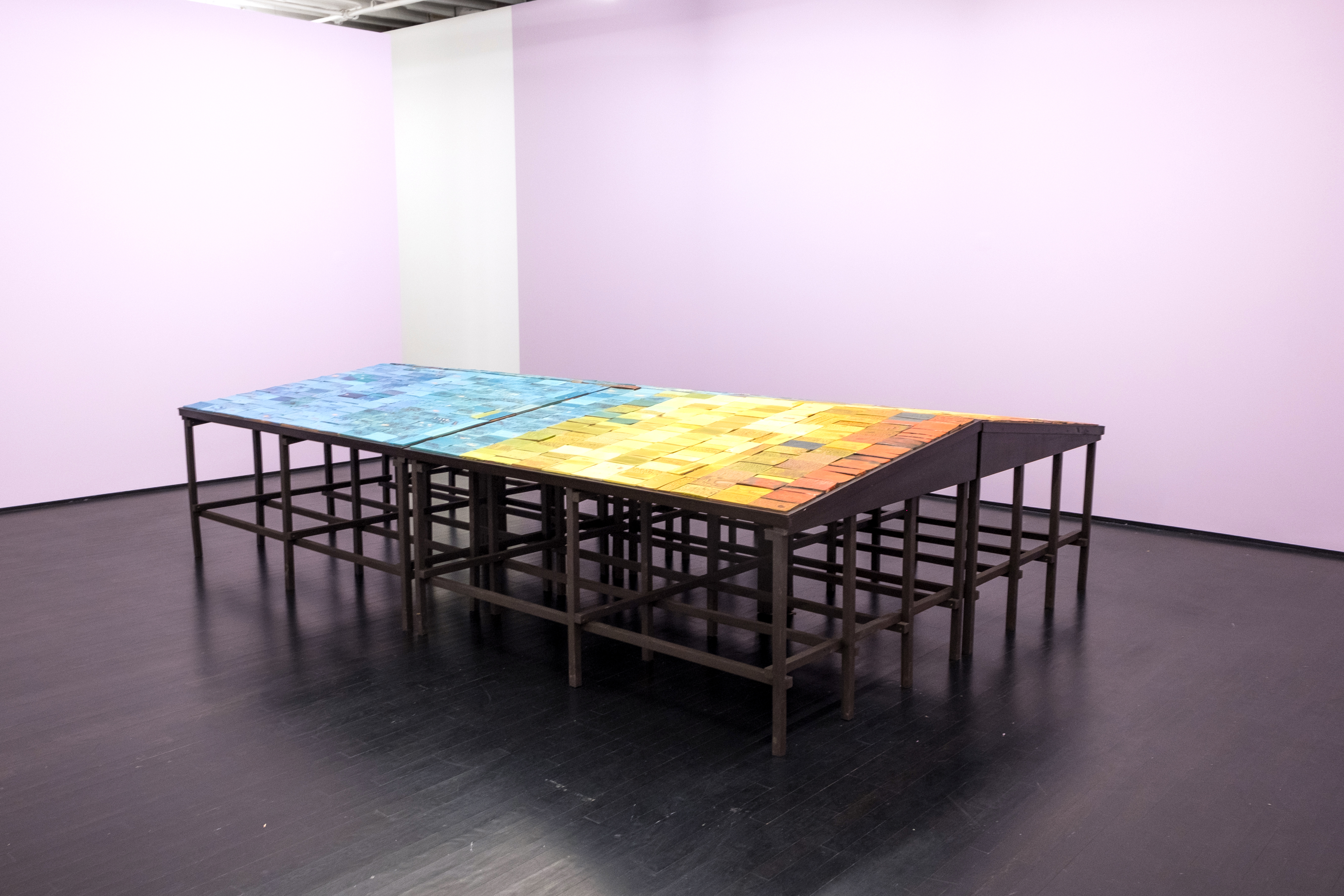 Collection of Tiles, (n.d).
Ceramic.
Doyle Lane
Custom tables by Julian Hoeber.
Install.
Left:
Untitled, (n.d).

Glazed earthenware.
Betty Woodman
Middle:
Reproduction of Persian Architectural Tile, (1977).
Ceramic
Unknown, Islamic
Right:
Minotaure, (n.d).

Glazed ceramic.
Pablo Picasso